Why We Have Evening, Poems by Leonard Orr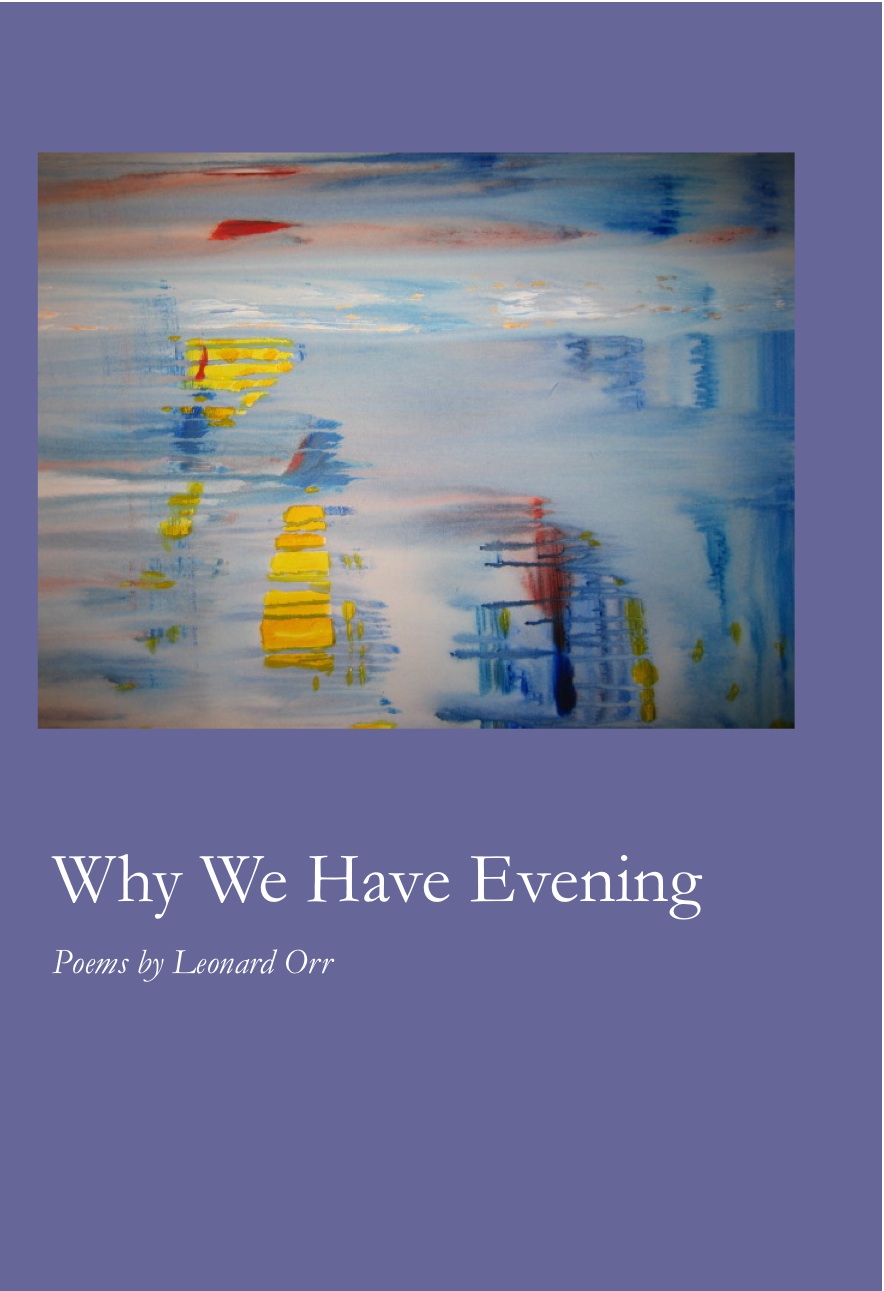 The human body, heavenly bodies, an artist's body of work: these are among the intertwining threads of Leonard Orr's rich Why We Have Evening.
"Like a scroll capturing 'all the different stages of the journey from here to there,' Leonard Orr's Why We Have Evening traces the transformative power of whole-hearted romantic love. From the thrill of falling in love, which he likens to a car skidding across ice on a mountain pass ('your eyes shot me through the heart, your skin lit me with celebratory flames, and we slid breathless, weightless, fused, floating without gravity') to the confusion and agony of losing such love ('my throat is filled with dust these days and if I sing a gray puff of ash floats from my mouth'), these are gutsy poems of adoration, longing, and desire. If you were once madly in love, are now, or would like to be, Orr's passionate songs to his beloved and to the world will surely pierce your heart."—Terry Martin
"Leonard Orr's Why We Have Evening could be called the Song of Solomon of the inland Northwest. These poems exult in sensual encounters with the 'deep, thick, dark tumbleweed of language'–words that roll, line after line, into celebratory metaphors that address the natural world with comic epithets ('you fat planet, / you fussy orb'), dive exultantly into the erotic nexus ('you / turn me into hot oil and I / pour into you...'), and transform into the 'Scarlet-Tinged Afflatus' of hyperbole that ventures to the rhetorical edge ('red-haired seraphim skateboarding into Grand Canyon') but doesn't quite fall over. Ultimately, whether the love affair is with language or with 'a language-drunk woman who will make me kick my / serifs off, mess up my gray Times Roman, persuade my bones / to incline into Garamond italics, let me loll playfully in her pink / Helvetica, and suddenly bloom into bold,' in these poems, language is erotic and love simmers with linguistic play. Whether floating among sensuous jellyfish off the coast of Tel Aviv, or doing the Dandasana on a yoga mat in the Tri-Cities, or walking along the Columbia to watch salmon in their romantic quest to lunge upstream against all the odds to spawn---always while thinking of and addressing his beloved---Orr is a poet whose words are thanksgivings for the wedding of meaning and mystery–not without with a touch of melancholy (read 'Yiddish for Travellers')–at the heart of life expressed in language. Let these poems serve such a thanksgiving to you, 'on a dark blue plate with glazed yellow stars.'"—Carolyne Wright
Leonard Orr is Professor of English at the Tri-Cities campus of Washington State University. He is the author or editor of thirteen books literary criticism or critical theory. His most recent books are Joyce, Imperialism, and Postcolonialism (Syracuse University Press, 2008), and Henry James's The Turn of the Screw (Continuum, 2009). He was named the Lewis E. and Stella G. Buchanan Distinguished Professor of English (2005-08). His poetry has appeared in many journals including Black Warrior Review, Fugue, Poetry International, Poetry East, Natural Bridge, Isotope, Midwest Poetry Review, Pontoon, Rosebud, and Rocky Mountain Review. His poetry chapbook, Daytime Moon, was published in 2005 by FootHills Press. He was a finalist for the T. S. Eliot Poetry Prize and the Blue Lynx Poetry Prize and was a semifinalist for the Floating Bridge Chapbook Prize and the William Stafford Poetry Prize. He has been a featured reader in many venues throughout the state, and he has led poetry workshops at the Burning Word Poetry Festival and elsewhere. He hosts the open mic and featured poet events at Washington State University Tri-Cities and served as president of the Washington Poets Association for three years. In recent years, he has taken up painting abstracts and had his work featured in a solo-exhibition of fifty paintings in 2007. Both his poetry and painting utilize a similar aesthetic based in spontaneity, surprise, and passion.
ISBN 978-1934999905, 110 pages, $18.00