Adalusian Dawn, Poems by Nick Carbó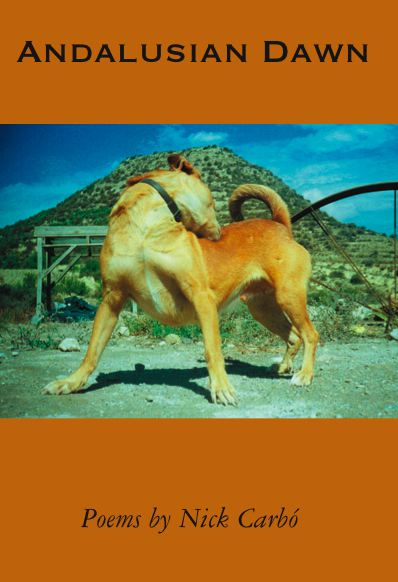 Andalusian Dawn, Nick Carbó's third full-length poetry collection, is a lush, sensual collection of lyrics on interior and exterior landscapes. Many of the poems are drawn from the geographic and cultural backdrop of Spain, where the poet spent time on a writing residency; others are drawn from the more elusive well of history, biography, and literature itself. Andualusian Dawn is at once Nick Carbó's most ambitious collection and his most intimate, and establishes him as a major figure of his generation.
"In Andalusian Dawn, Nick Carbó creates a new, sweet language. This collection hums with tenderness, revelry, and pays special tribute to the importance of memory. Carbó shows his extraordinary range with this, his newest collection, that will make you want to visit Andalusia and reimagine the geography of your heart's home." --Crystal Williams, author of Lunatic: Poems
"The spirits of Lorca, the gypsies who inspired him, and the great poets of al-Andalus preside over Nick Carbó's Andalusian Dawn. These poems are filled with a voluble silence in which we hear the 'cricket-sound dark' and see 'millions of fireflies/ burning in rows and rows between us.' Carbó's poems, like his predecessors' are conflagrations made of music and image." --Michael Collier, editor of The New American Poets: A Bread Loaf Anthology
"If this were Nick Carbó's first book, we might be praising him as the new Lorca. But anyone who knows his work, knows he's got the best of Lorca and much more in him. Drawn from the deep, deep waters beyond these shores, the poems of Andalusian Dawn reflect his influences, and more importantly, his complete originality. They are a blend of mysticism and tenderness; of passion and quiet. They demonstrate Carbo's boundless heart and talent." --Terrance Hayes, author of Hip Logic
Nick Carbó is the author of El Grupo McDonald's (1995) and Secret Asian Man (2000), which won the Asian American Literary Award. He has edited two anthologies of Philippine literature: Returning a Borrowed Tongue (1996) and Babaylan (2000). He also edited an anthology, Sweet Jesus (2002), with Denise Duhamel. Among his awards are grants in poetry from the NEA and NYFA (1999), and residencies from Fundacion Valparaiso (Spain), Le Chateau de Lavigny (Switzerland), the MacDowell Colony, and Yaddo.