Theban Traffic, Poems by Walter Bargen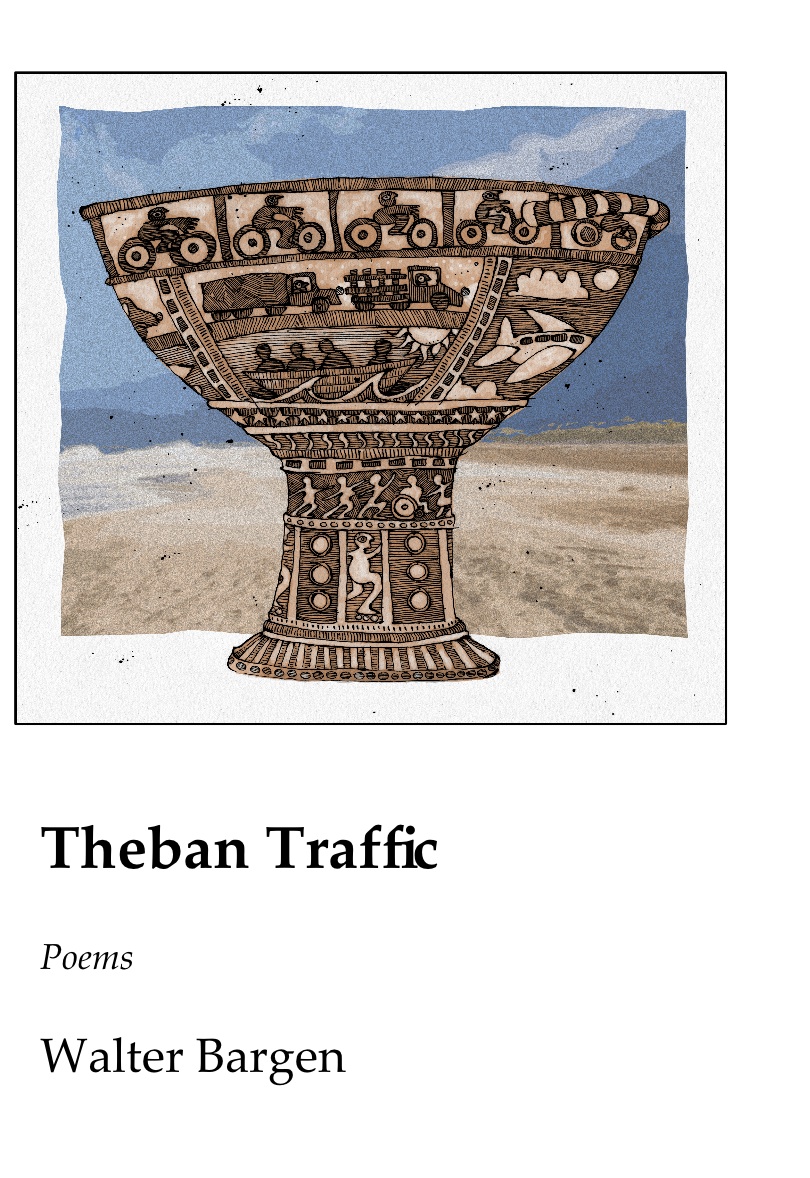 In Theban Traffic, Walter Bargen maps traditional myth onto the postmodern landscape. As the hubub of our daily lives becomes part of a larger mythos, we also see timeless themes enacted in the everyday. Theban Traffic is a humorous, ambitious, and compelling collection of narrative poems.
Missouri Poet Laureate, 2008-2010
"These days I rarely discover a book that withstands multiple readings. Theban Traffic testifies that Walter Bargen is America's best sociopolitical poet with a marvelous gift for lyricism. Once again, he's erected an astounding epic, full of sadness and humor and nostalgia for what never existed, nor ever will. Therein lies the seduction. In Bargen's post-millennial Thebes, the knowable universe becomes finite, and a couple's life is mapped in the peculiar paths of everyday—inhabited by cells and cellophane, cats and computers, where mythic moments are pared to the delicious, broken heart."—Debra Di Blasi, author of The Jiri Chronicles & Other Fictions
"Walter Bargen is the real thing, a narrative poet who is at once accessible and complex. In this series of poems, we meet Jake and Stella, two fascinating, subtly-drawn characters existing in a sort of mythic present, their passions, and daily frustrations at times surreal, funny and, often, deeply moving. This is an ambitious project, one Walter Bargen completes with dexterity, humor, and vision."—Kevin Prufer, editor of Pleiades
"Walter Bargen has always been a restless poet, eager to try new forms and voices, happy to abandon the complacencies of a style he has mastered in order to experience again the thrill of pushing into unknown realms.  Because of that, he is impossible to label.  At the same time, he has found a music that is his and his alone--at once ecstatic and clear-sighted, public and private, secular and spiritually attuned."—Sherod Santos
Walter Bargen has published ten books of poetry, including Harmonic Balance (2001), The Body of Water (2003), and The Feast (2004). His poems and fictions have appeared in over one hundred magazines, including American Literary Review, American Letters & Commentary, Beloit Poetry Journal, Denver Quarterly, Georgia Review, Missouri Review, New Letters, New Novel Review, Pleiades, Poetry East, River Styx, Seneca Review, Sycamore Review, and Witness. He is the recipient of a National Endowment for the Arts poetry fellowship (1991); winner of the Hanks Prize (1995), Quarter After Eight Prose Prize (1996), the Chester H. Jones Foundation poetry prize (1997), and the William Rockhill Nelson Award (2005). He was appointed to be the first Poet Laureate of the state of Missouri (2008-2009).
ISBN: 978-1934999134, 108 pages