Land of My Father's War, Poems by Phyllis Meshulam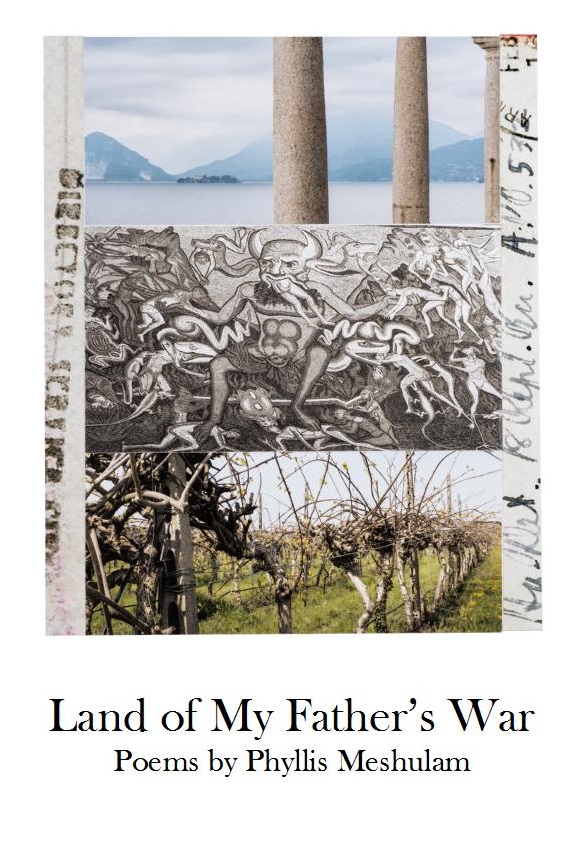 In poetry that ranges from formal to experimental, Phyllis Meshulam chronicles her parents' journey through separation during World War II, her own history, and the search for the lands of our roots and redemption.
Sample Poems by Phyllis Meshulam
"In this book, the literal 'land of my father's war' is Italy, where the poet's father served in World War II, and where he took his young family to live for a while in the aftermath, a place to which the poet has sometimes returned as an adult. However, the landscape of these beautifully crafted poems is wider than any one country, and deeper than any one moment in time. Phyllis Meshulam maps the landscape of consciousness in our time, and though it is scarred profoundly by the wars we've inherited and that never seem to end, it is also, as these poems teach us, a landscape where love, caring, and insight can in fact be nourished, where a wholeness of spirit is still possible, where one can and perhaps must fervently speak 'in favor / of a constancy of kindness.'" - Fred Marchant, author of Said Not Said
"'We only get one chance at certain roads,' sings Phyllis Meshulam in 'Uncertain Roads.' Following the skeins of her poetry, we travel to the long-ago - places, wars, loves - and know them for ourselves as they are now. Such grace. Such beauty." - Maxine Hong Kingston, author of I Love A Broad Margin To My Life
"'If you have that writer's demon, it will find an out,' said the poet's father. And this urgency of spirit has emerged eloquently here in these poems of perception and even prophecy, in Meshulam's story of becoming. These poems are the fresh shoots of remembering, asserting themselves through the concrete of family history." - Joy Harjo, poet, performer, musician, and teacher
Phyllis Meshulam, poet, teacher, coordinator for California Poets in the Schools and the nation-wide youth recitation series Poetry Out Loud, is the author of Doll, Moon (Finishing Line Press) and Valley of Moon (d-press). Her work also appears in literary magazines and the award-winning anthology Veterans of War, Veterans of Peace. A graduate of Pomona College with an MFA from Vermont College of Fine Arts, Meshulam was the editor for Poetry Crossing, 50+ Lessons for 50 Years of California Poets in the Schools.
ISBN: 978-1625492371, 110 pages, $19.00